The spectacular installation in the Tiare Shopping Centre food court, which combines Digital Signage and Design, almost seems to defy the laws of physics.
INGKA Centres
Established: 2001
Sales points: 45 shopping centres in 14 regions across China, Russia and Europe.
Tiare Shopping: The first of two Italy-based INGKA Centres.
EXECUTIVE SUMMARY
The renovation of Piazza Maravee, at the heart of the Tiare Shopping Centre, is the result of daring digital design. The development includes two opposing installations: the first is an extraordinary double-sided structure suspended from the central dome over the piazza, while the second rises up from the floor. The overall effect is completed by a long panel of screens that adopts a playful asymmetrical ribbon shape, hanging between the first and second floors of the food court, along with a third totem that rises from the gallery. M-Cube was responsible for every step in the design process: study and analysis of the location, conception, installation and activation.
Context
Tiare Shopping Centre in Villesse (Gorizia) is the first built in Italy by INGKA Centres, a company that designs and manages commercial structures that contain an Ikea store. Over 90,000 m2 (of which 30,000 m2 is occupied by Ikea). The entire structure uses specific architecture to enable thousands of visitors to enjoy a quality shopping and entertainment experience.
In this context, Piazza Maravee plays a decisive role in the equilibrium of the shopping centre. In 2018 the management decided to redevelop the food court using digital technologies to make the Tiare central piazza even more modern and appealing, while supporting different initiatives by the tenant mix.
SOLUTION
Using Samsung LEDS, two opposing double-sided totems were created, one rising from the floor and the other suspended above (approx. 3 m x 7.5 m), as well as a curved LED panel structure around the court gallery (approx. 60 m x 2.5 m) with an additional totem of approximately 8 metres tall. This makes a total of 600 cabinets with 240 m2 of video surface and 4K resolution. The LEDs have a 6 mm pixel pitch which guarantees the highest visual definition.
Consumer expectations are evolving and consequently sales spaces must evolve too, guided by technology, urbanisation and sustainability. With these new installations, we have created an agora 4.0, adding value for both our clients and our commercial partners.
Giuliana Boiano, Meeting Place Manager Tiare Shopping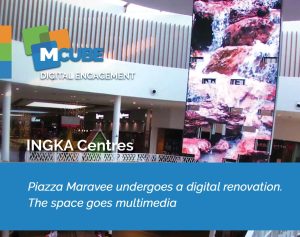 Download Tiare Shopping Centre case study