The luxury market is evolving and seeing changes in its consumers and their needs: consumers are increasingly international, globetrotting and millennial, they are connected to their smartphones, committed to omni-channel experiences and they seek originality and fun from the exclusive luxury experience.
Boston Consulting, Altagamma and PWC 2017 data:
Increase in luxury consumers from emerging countries such as Russia, Asia, South Korea and especially China (2017 data: 1 in 6 customers in Italy is Chinese).
The luxury customer is a globetrotter. They travel a lot and tend to buy abroad (45% of Chinese consumers purchase abroad).
30% of luxury buyers are millennials, with an average spend of $1,400. Millennials will represent 50% of buyers by 2024.
Luxury clients are increasingly smart. They use their smartphones to make purchases, communicate and get information. The use of social media as a source of information and word of mouth is increasing (social media is the primary source of information in China).
"Made in" is a fundamental requisite for luxury consumers, but millennials also place originality and fun among the important values that make a brand attractive.
Even the luxury market is seeing a shift of the value chain towards the client, embracing an omnichannel approach to promote new methods to attract, engage, communicate and develop customer loyalty both online and in-store. The store physically represents the brand and immerses the client in a memorable and multisensory experience.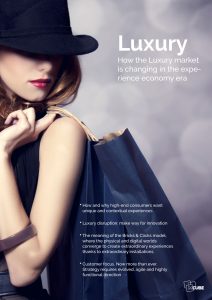 Download the white paper:
LUXURY How the luxury market is changing in the economy experience era