E-commerce vs in-store? You might think it's an easy victory for e-commerce, but don't be so sure, warn the experts. The future of brick-and-mortar stores is still to play for and will depend on their ability to transform into multi-experiential hubs. Welcome to the era of experience economy and contextual engagement.
CX economy means knowing how to manage the new economies of scale associated with the Customer Experience. As analysts point out, omnichannel consumers and the latest developments in technology are introducing useful new business metrics. The shopping experience alone is no longer enough. Brands must aim to manage customer experience in all its forms.
KPMG analysts, for example, have underlined how customer experience management will be the real deciding factor over the next two years, even more so than price and product policies (Source: "Global Retail Trends 2018"). Their expert advice to retailers? Introduce new metrics to evaluate sale-point performance. Instead of the quantity of products sold per square foot of the store, retailers will have to learn how to measure experience per square foot. Physical stores that focus on the CX economy, and therefore a rewarding and engaging experience, will still be here tomorrow. It's the boring shops that won't.
CX Economy at the heart of development
Projections confirm that between now and 2019, 90% of sales will continue to happen in a physical store. So how can retailers guarantee winning customer experience management?
Digital signage solutions, interactive totems, smart workstations, virtual dressing rooms, and magic mirrors are essential for an attractive, engaging and loyal CX economy, not to mention in-store radio solutions that can be localised to different departments. Every surface within the physical store is a potentially strategic point of contact that can attract, engage, communicate and interact with the customer, transforming a brief moment into a trusting relationship.
Dynamic and careful direction is needed to orchestrate the various visible and invisible technologies currently available to help brands create a series of services tailored as much as possible to suit every single user. The CX economy is, in fact, based on the concept of contextual, instantaneous and personalised service, whether in terms of communication or the products on offer.
Today, it is no longer the product that drives company performance," explained Ivano Ortis, Vice President in charge of IDC Retail, Manufacturing and Financial Insights, at the recent 2018 Customer Experience Conference held in Milan. "Customer experience is the new heart of business and, if well-managed, it can even reverse a long-standing principle of the economy, whereby it is now the products that find the customers. Companies are highly aware of this evolution. In Europe, customer experience management is a top priority for over 5 out of 10 companies (52%), (second only to security).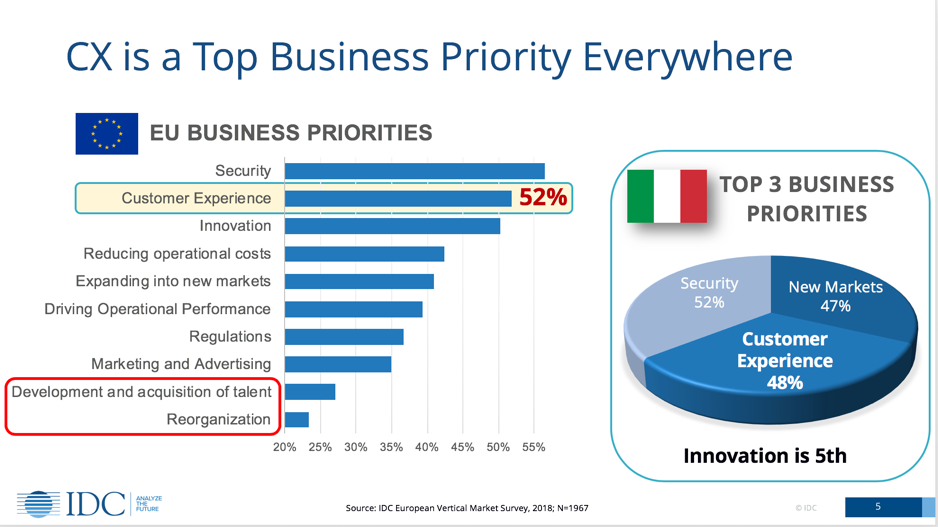 The multi-experiential store
Unlike online sales, brick-and-mortar stores still have a perfectly valid raison d'etre if designed to be multi-experiential hubs. The added value of the store is precisely its ability to engage each and every one of the consumer's five senses, thereby generating a positive and unforgettable experience. How exactly?
By strewing the consumer path with opportunities for engagement and interaction, and by designing touchpoints that will offer personalised information, gamification and promotions or fun contextual entertainment solutions.
KPMG analysts cite a Salesforce.com report which states that over 6 out of 10 consumers (64%) expect companies to respond and interact with them in real time. Customer Experience Management means knowing how to short-circuit the various consumer paths, ensuring points of engagement and points of purchase converge. Interactive installations, connected and communicating objects, geolocation solutions, and apps, as well as smart shelves, tables and mirrors help brands to provide and gather information.
Customer experience also means big data management
According to IDC, by the end of this year 70% of companies will have made operational changes based on the transformation of business models associated with the CX economy.
Management of these information flows – continued Ortis – will bring new information to companies, enabling them to apply additional KPIs to measure the customer experience. For example, 40% of companies already use standards such as the Next Promoter Score (NPS) and the Customer Satisfaction Index (CSI), which is only possible through advanced use of data.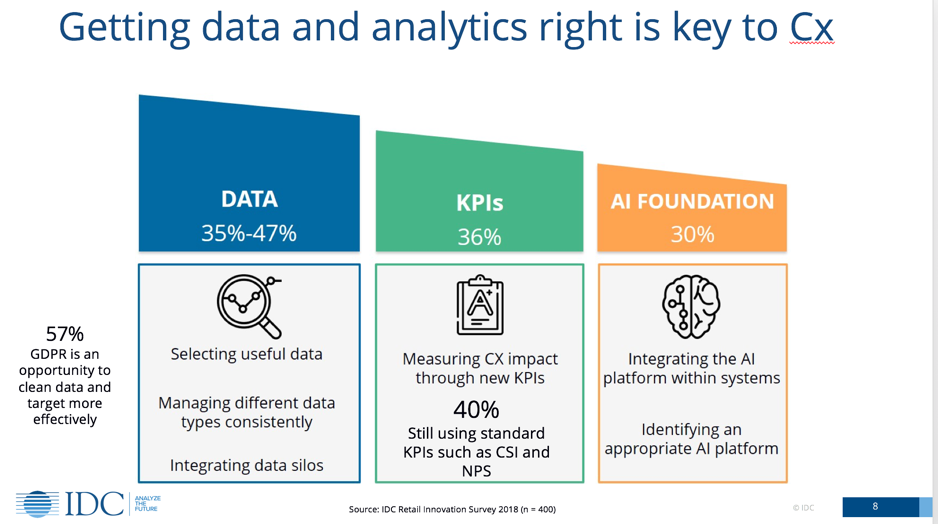 The revenge of the brick-and-mortar store
The idea of increasing installations aimed at intercepting (or better serving) shoppers in store has a dual purpose. The ability to track feedback from the initiatives and to record customer behaviour enables more accurate customer segmentation and the creation of personalised content. Marketing can not only launch data-driven campaigns, but also develop predictive models and better measure performance by studying corrective actions that offer added value for the consumer.
According to Accenture analysts, this approach makes it possible to increase conversions by 32%, increase revenues by 43% and generate an increase in recurring purchases of 65%.
Laura Zanotti, Journalist and Technical Writer
5 October 2018